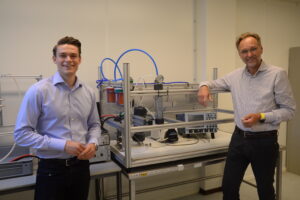 AVOXT DEVELOPS EFFICIENT AND SUSTAINABLE ELECTROLYSER TECHNOLOGY USING INNOVATIVE POWER ELECTRONICS
AVOXT is an innovative startup organisation tackling the challenges of making the deployment of green hydrogen affordable and scalable. We spoke with CEO Ton Rademaker and CTO Pascal van Bakel about AVOXT's mission and how they are employing their power electronics to design efficient and sustainable electrolysers. Due to their modular structure, these are also highly scalable when the market demands it.
THIS ARTICLE IS TRANSLATED IN ENGLISH AND REPRINTED WITH CONSENT OF THE ELECTROLYSER MAKERS PLATFORM.
The original article in Dutch can be found here
Avoxt receives TSE grant
in August 2022 Avoxt received the news that a TSE grant was awarded.